I am loving this new stack from DCWV called "Pocket Blossom", it has the prettiest dainty floral patterns in it. My supply of cards for Ladies is pretty full, and I usually save floral patterns for this type of card. Some of the patterns are so dainty and girly-looking, I think I will make some for little girls, new baby, and teens. It won't go to waste...that's for sure!
* Orange cardstock - By Bazzill is 12"x12" and is called "Tangelo".
* Floral Pattern - From DCWV stack called "Pocket Blossom".
* Pink and Beige cardstock are from my Scrap box.
* Embossing - A new 3 piece set of border folders by Darice, I just bought called "Flourishes".
* Frame - Is a Cricut image cut from the "Lacy Labels" cartridge
* Butterfly - Martha Stewart punch. I cut one in color Tangelo and glued it to the frame, cut another in pink and glued only the center of it to the Tangelo one, for a 3-D look.
* Happy B'day - Close to My Heart stamp from the "4 My Friend " collection.
* Flower - Are store-bought. Layered two sizes, added a small orange Brad to center.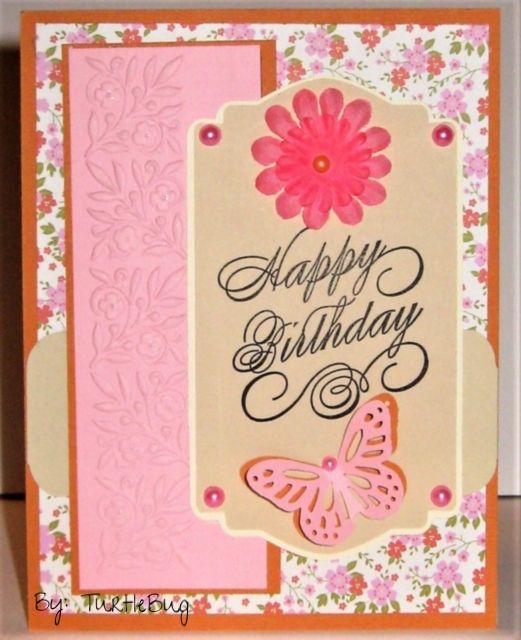 Thank you for following TurtleBug's Trail!
Challenges Entered: